I have noticed that even when I take students outside to practice landscape painting, many still depict trees in a schematic manner with a single trunk "stem" and a fluffy cloud top - these are sometimes called "lollipop trees."
I thought students might like to see how professional, adult artists approach the subject, so I recently showed a very old, quite dated film of four Disney Artists
out painting from observation ("a busman's holiday"!) The film starts with Walt himself introducing idea about creativity and originality and then shows the four artists at work in their day-job as background artists in the Disney animation studio (circa my childhood).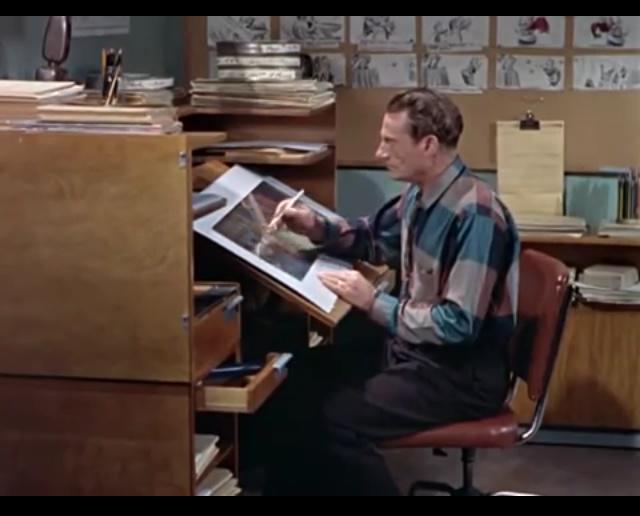 https://pbs.twimg.com/media/B7AFFvRIcAAZxjY.jpg:large
Then it gets to the good part - the 4 artists head out to paint the same tree in their own original styles, with their favorite mediums.
http://blog.trello.com/wp-content/uploads/2015/04/8030.Madavis-6.jpg-500x0.jpg
I was prepared for kids to complain that the movie was old, or boring, but the opposite happened - they were intrigued with the animation process and even more so with the part showing the artists-at-work on their various tree paintings.
Grade 6 artists at easels in the painting center
And then I was even
more
surprised when so many students went right from watching the film to the painting center, set up easels, and started to paint trees. That was Friday, and it is still going on today, even after the weekend.
We are fortunate that we can see trees from each window of our art studio, but many students pulled tree images from the internet as references. If it wasn't raining today, some kids would no doubt have been back outside.
Two of the artists in the film demonstrate painting with palette knives. Students found ours in the printmaking center, because we use these to get the ink out of the jars.
The results of this new tool was surprising and interesting for students, and was nothing I have shown before.
.
I guess I'm writing all this to say that I never really know what ideas will be "grabby" for students and I am pretty surprised by all the interest they have had in painting tree-portraits, in our last week of classes, mere days before the painting center (and everything else!) closes down.